How to Write a Readmission Letter Correctly
Get readmitted with a compelling appeal letter. Prove you're ready to earn the desired degree!
Experts specializing in appeal letters
Customized letter
No matter what reason for readmission is
What guarantees we provide
We offer our users a full benefits package and make good on our promises.


Experts specializing
in appeal letters
Our experts are practiced at writing appeal letters and hold relevant degrees.


Unique & personalized letter
Plagiarism is out of the question for us since customized writing is a must.


Reasons explained,
problems solved
We'll shed light on the reason you left the program and explain why it won't happen again.


Properly structured
& formatted letter
Your readmission letter will meet the requirements both for style & content.


Money-back guarantee
Nobody may access the data you provide to us due to our privacy & security policy.


Confidentiality guarantee
If, for some reason, you find the order unsatisfactory, be sure to get a refund.
Consistently high quality
Our writers provide all components of an excellent personal letter:
Grammar
Structure
Word choice
Formatting
Speech style
Needed points
Text isn't finished until our editors check it to perfection. They have an eye for detail, so mistakes won't go unnoticed. Our experts consistently boost their qualifications – everything to deliver even better service to you!
*Tap on the number to see more info.
SAMPLE LETTER FOR READMISSION
To the Johnson University Discipline Committee
I am writing to appeal for readmission to Johnson University. About two years ago, I came before your committee on a charge of underage drinking and reckless actions. I was foolish in thinking that my actions were completely harmless, and due to my carelessness, a classmate of mine ended up in the hospital. My mistakes have haunted me for the last two years, and I know that the school was justified in expelling me. However, I have taken this time to reflect on my actions and grow as an individual, and I hope that this letter will demonstrate my wish for a return to study.
The reasons for whatever it was that caused your suspension.
When I first enrolled at the university, I was focused more on the social aspect of school I had seen on television. I paid little attention to the privilege I had in getting higher education. When I was expelled from school, I had to find a job and started working on self-improvement. I realized the true reason I aimed to attend the university. I wanted to enhance my prospects and build a career based on the knowledge I would gain from my study.
Assure officials that the problem has been resolved.
I expect to return to Johnson University to start my study anew, this time focusing on academics and opening my mind to new perspectives. The last two years have helped me mature into a person who better understands responsibilities and obligations to the community, and I hope that you will give me another chance to study at the university.
Sincerely,
Dylan Knowles
Explain why you would like to be accepted back into their program.
A letter for readmission is a common yet complex letter to write. The complexity of a readmission application letter or application letter for readmission in school stems due to the fact that it can make or break a former student's future. The reason is that this kind of letter is a written appeal to go back to school. For someone who will write an application for readmission, there are important elements to be noted. First, the reason must be clearly stated by the letter writer. It should answer questions such as why and when you would like to return to school.
Another element in the difficulties of how to write a readmission letter or how to write an appeal letter for nursing school is the ability to persuade. Being an appeal letter, you must be able to let the reader put themselves in your shoes. They must understand your situation and why they should approve of you returning. A letter of readmission for cases such as suspension would also need strong evidence. The letter writer should be able to dig deeper into the root cause of the problem. An inquisitive mind is needed to be able to ask, why was the student suspended?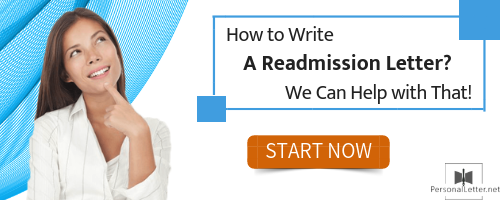 How to use our service
Step 1
Share requirements
Complete the order form to tell us what you need.
Step 2
Make a payment
Pay for your order using one of our reliable methods.
Step 3
Log in to your account
Receive sign-in details by email & check the progress in your Customer Area.
Step 4
Download the final doc
Get notification and save the finished text from your account.
Order now
Reviews
We made much effort to draw customers' attention and achieve their loyalty. Want to know what our clients say?
Order now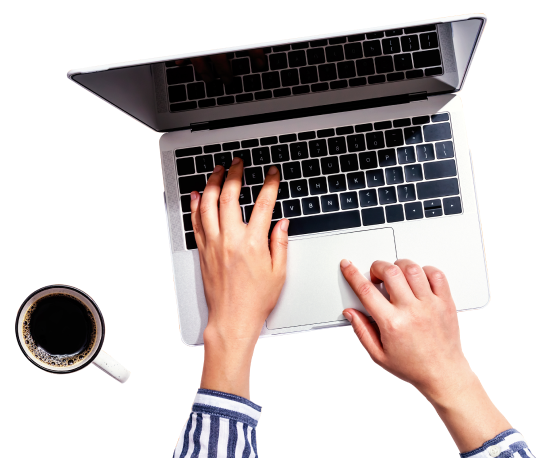 Personal statement


My text is awesome. Thaaaanks;)
Readmission letter


omg, my letter is great! thank you guys
Admission essay


Writer did a great job. Just what I needed.
Readmission letter


Letter was alright. I finally got back to my college!
Letter of intent


My writer included all I wanted in my text. Thanks:)
Personal statement editing


You guys made my text perfect
Waiver request letter


thanks for help, text is fine
C
Customer #948539, India
Readmission letter editing


Letter is nice. I like it!
Admission essay editing


got my essay edited on time:) thanks a million
Statement of purpose


Thanks
C
Customer #959593, Canada
Readmission letter


Got accepted back into school thanks to you;)
Personal letter


Thanks for timely help.
Admission essay


You wrote a really good essay, thanks ;)
Waiver request letter


Thanks for letter. You helped me a lot
C
Customer #538539, Philippines
Readmission letter


Letter is okay, many thanks!!!
Personal statement


don't regret I used your service;)
Readmission letter


Letter is gooood. Gonna recommend this service to my friends
Statement of purpose


Not bad:) Thank you guys
Readmission letter


Thanks for letter;) I like it
Admission essay editing


You made my essay ideal. Thank you a lot!!
Readmission letter


You guys are great!
Personal statement editing


Thanks for editing my text, it's excellent now :)
Readmission letter


Great. Thanks
Personal statement


Thanks for personal statement. Can't believe I got into college :)
Statement of purpose


Didn't even expect such good text. Thaaanks!
Letter of intent


these guys are real experts. my letter is well well written
Readmission letter


Thank you for letter. It's amazing;)
Waiver request letter


You wrote awesome text. I'm happy with that!!
Readmission letter


Thank you for original letter. Goood job!
Personal statement


Personal statement is OK. Thanks;)
Order now
Having a good explanation will persuade the school that the dismissal had a reasonable cause. Unfortunately, the explanation does not stop there. The readmission letter format should also include how the appeal will go moving forward. It should be able to let the school feel secure that the problem will not happen again and that the student is very much serious with their education.
Letter for Readmission: Different Types
Now that we have discussed letter for readmission, let us talk about their types. There are two main kinds of readmission which are readmission due to voluntary departure and readmission due to involuntary dismissal.
Readmission Application due to Voluntary Departure. One will write an application for readmission for this type when it is the student's decision to leave school. There is a variety of reasons why students choose to leave school.  The first is due to medical reason. Having a critical illness needing daily therapy or hospitalization would prevent a student from going to school. Along with that, medical treatments can be costly and a financial burden may arise. Going to college or university may leave a big hole in the pocket. No matter how much a person tries to juggle different jobs, money would still not be enough due to the high cost. Personal reasons such as migration may also occur. A student may have migrated temporarily in another country due to the work of the parents. After one semester, the student may have come back and want to return to school. Such situations are understandable but would still need a clear explanation which is mandatory in a readmission letter format.
Readmission Application due to Involuntary Departure. Due to its nature, how to write a readmission letter for this type is more complex. The main reason is that it was the school's decision to dismiss the student. It may be due to suspensions such as intolerable behavior or failing grades. A good readmission application letter will be able to explain and dig down the cause of the problem of the dismissal. The readmission letter format emphasized the need to provide evidence and show a willingness to change for the better for the school's security that such dismissal will not occur again.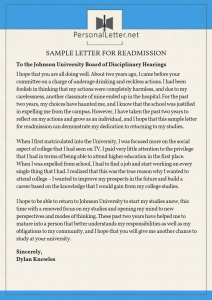 How to Write a Readmission Letter
Students who have withdrawn or been suspended from school are often allowed to return to the school at a later date. This usually requires that they write an application for readmission to the appropriate school authorities. It is important that the letter for readmission or sample letter of reapplication to previous company be written correctly, especially for those students who have been suspended for academic or other reasons. The following are the steps in how to write a readmission letter:
Check the school's website for any specific requirements before you start to work on your readmission application.
Make sure you format the letter correctly. If the school doesn't have specific formatting requirements, use a standard business format.
Open your letter by stating the reason you are writing and why you were suspended or why you voluntarily stopped school
In the second paragraph explain in a clear and concise manner the reasons that led to your suspension or withdrawal from the school.
In the third paragraph include why you would like to be readmitted to school, any steps you have taken to justify the school accepting you back that demonstrate your commitment and assurance that whatever problems have caused you to leave or be suspended have been resolved and won't happen again.
Thank them for their consideration in reviewing your application for readmission.
Suggestions to Improve Your Readmission Application
The following are some helpful suggestions you should keep in mind while writing your readmission application:
Don't provide a long list of excuses or blame somebody for problems. Accept responsibility for your actions and decisions.
Provide examples of what you have done to resolve issues. If you had problems in a particular area maybe you took remedial classes. Any examples of things you have done that demonstrate you are sincere and committed to completing your degree can help.
In your closing include that you are aware the school doesn't have to readmit you. This indicates a degree of maturity on your part.
Proofread for spelling and grammatical errors
For students who are unsure how to write a readmission letter, one alternative is to use our professional letter writing service.
Our Personal Letter Writing Service Includes Readmission Letters
We offer all types of letter writing services including those for readmission letters. Our writers are degree holders with extensive experience and superior writing skills. They know what to include in readmission letters and the best way of presenting your information. Other advantages of using our personal letter writing help include:
Direct contact with the writer working on your letter.
Guarantees on every letter and unlimited free revisions for up to 30 days
Efficient and easy online order and payment process
Inexpensive rates without sacrificing quality
If you need an application letter for readmission in school or a readmission letter to the university, contact us for a professionally written letter that makes a compelling and convincing case for you being readmitted to school.
We know how to write a readmission letter that will make your readmission application easier. Just get in touch with our specialists today!