Use a Readmission Letter Sample as a Writing Guide for Your Own Letter
Students often voluntarily leave school for personal, medical or financial reasons. Others are suspended due to poor academic performance or other violations of school policy. Writing a readmission letter is often part of the process of being accepted back into school. A sample petition letter for readmission can be useful and serve as a writing guide if you have to write your own readmission letter. Of course, you shouldn't just copy another letter but you can get information such as:
The type of information that should be included in your own letter
Information about readmission letter format
Information on the style and tone readmission letters should be written in
Every readmission letter is different because each individual has their own experiences. However if possible, the readmission letter sample you use should be for circumstances similar to your own.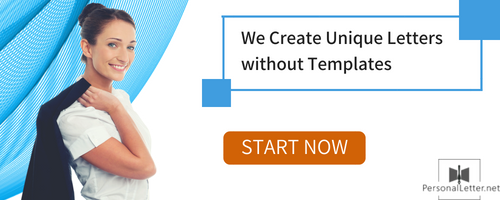 Importance of the Letter for Readmission
The readmission letter to university is the final hope that can give you admission in the desired institution again. You may be required to write a readmission letter based on return permission if you left college before finishing the degree. It is not so simple to convince the same university that you've left for giving the admission one more time. Your appeal letter for college readmission has several significances that you probably never knew. Have a look at them.
You can save your educational career by getting the admission again (if the committee likes your letter).
The time can also be saved as you won't have to start studying from the first semester by getting admission in a new college/university.
The genuine reasons for leaving the university can stop the selection team from imposing the strict policies on the former students. For instance, you can be disallowed to take more than one left in a month.
Studying with the people you know is the major benefit for all of us. After studying for a certain period of time, you would definitely like to have the same class-mates again. This won't make you feel uncomfortable.
Points to include: add these steps in your readmission letter.
The brief overview to introduce yourself.
The body of a letter by discussing reasons to reconsider you.
An engaging conclusion to convince the team in the kindest way.
How to Write Readmission Letter – Few Tips
Majority of the students have no idea how to write readmission letter. Following a few tips will help you to write a good one:
Explain your reasons

: It is the most important factor when you are looking for

how to write readmission letter. Don't just mention that why you left the school, rather explain in

detail the reason, which leads to this painful decision.

Avoid emotional clinches

: You are writing a formal letter, so your tone should be formal. Emotional language will not serve the purpose, rather being honest can be useful.

Provide documented proof

: If you were not feeling well and you have to leave the school. Provide documented proof that now you are fine and can attend the school again. This is just one of the

readmission letter examples.
Plan wisely:

It is very important to plan your readmission letter wisely. You have to find firm ground for your appeal. You find man

y readmission letter examples online, but stick to your own reasons and being honest is the key to your readmission.
Be clear

: Write your readmission letter in a clear way. Try not to create confusion and for the admission committee as well. Write your reasons clearly and let them understand them too.
Right Structure of the Appeal Letter for Readmission
The former students who seem capable enough to the schools always get a positive response for getting chosen again. If you are reinstated, you must offer compelling reasons why you would not encounter the same problems. Your letter to dean of admissions must be written like this.
Discuss the Genuine Reasons. You need to share the main reasons for leaving. From any personal issue to the sudden health problems, do not feel any hesitation to let them know. Share the evidence too (if you can).
Develop a Success Plan. Make sure that you're willing to study all the left course (subjects) again to convince the selection team. Let them know that you'll work hard to secure good grades in the future.
Discuss the Personal Growth Evidence. As a previous student, you need to explain what you've realized after leaving school/university. For example, I actually understood the significance of the college/university education.
Send the Well-Furnished Letter. The 2-pages long letter with no typos and spelling mistakes is always expected by the university. The letter that you're going to submit must be free from such errors. They sometimes read the whole letter thoroughly.
Where to Find a Readmission Letter Format
There are many samples of readmission letters available for free on the internet. The following is a letter of readmission for academic suspension sample: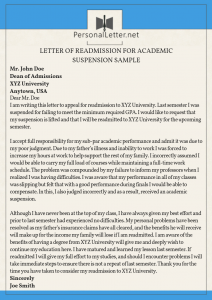 If a readmission letter sample doesn't provide the help you need, one alternative is to use our personal letter writing service to write your readmission letter.
Readmission Letter Types
Your readmission essay can have several types and nature of the content. Take a look at some of its types.
Return From Leave. This can be a reason with the valid statements for sure. Your petition letter for school must be written by following a good format.
Personal Issues. It is the common problem that can be discussed in this letter for getting the admission again.
Health Problems. The inability to take classes due to bad health is also a solid reason for writing this letter. It is a general type of readmission letter.
The academic suspension appeal letter composed by our experts is an exception. Yes, you read it right. They prefer studying the main reason(s) of the applicant and then start working on the letter. The team of writers has adequate experience in this field.
They talk to the client and ask all the details to write from scratch.
The experts make proper corrections in your letter so that no one finds any error.
The letter for readmission to college is written concisely without filling up the pages by adding the unnecessary words/sentences. We care for the valuable customers of our services.
A well-written reinstatement letter for school can brighten up chances of including your name in the top place of the list. This really would end up your nervousness regarding whether to be selected or not. Everyone must know about the importance of the readmission letter if they've left the university and hopeless for getting considered again.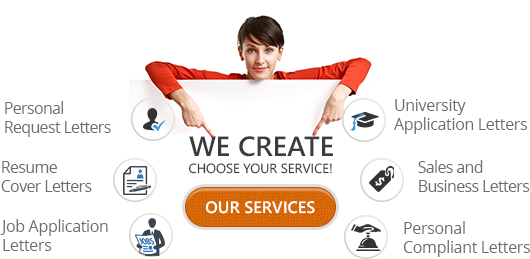 We Can Write Your Letter
Our personal letter writing service includes readmission letters among the types of letters we provide. We use professional writers with relevant degrees for all the letters we provide, and all writers have a substantial amount of experience as well as outstanding letter writing skills. Additional benefits of using our service include:
Guarantees on every letter we provide and free revisions for up to thirty days.
Affordable rates that won't break your budget
Easy online order and payment process
Customer support 24/7
Use our readmission letter sample and contact us for a readmission letter that makes a convincing case to admissions officials!