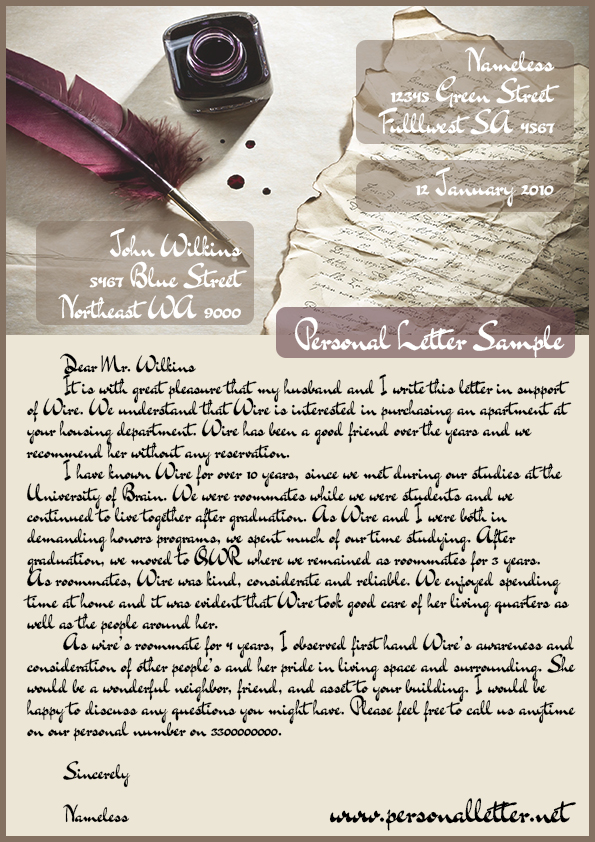 Get a feel of a sample personal letter done by our professional personal letter writers. We have what it takes to give you tips and guidelines on personal letter writing here.
Sample Personal Letter
Nameless
12345 Green Street
Fulllwest SA 4567
12 January 2010
John Wilkins
5467 Blue Street
Northeast WA 9000
Dear Mr. Wilkins
It is with great pleasure that my husband and I write this letter in support of Wire. We understand that Wire is interested in purchasing an apartment at your housing department. Wire has been a good friend over the years and we recommend her without any reservation.
I have known Wire for over 10 years, since we met during our studies at the University of Brain. We were roommates while we were students and we continued to live together after graduation. As Wire and I were both in demanding honors programs, we spent much of our time studying. After graduation, we moved to QWR where we remained as roommates for 3 years. As roommates, Wire was kind, considerate and reliable. We enjoyed spending time at home and it was evident that Wire took good care of her living quarters as well as the people around her.
As wire's roommate for 4 years, I observed first hand Wire's awareness and consideration of other people's and her pride in living space and surrounding. She would be a wonderful neighbor, friend, and asset to your building. I would be happy to discuss any questions you might have. Please feel free to call us anytime on our personal number on 3300000000.
Sincerely
Nameless
Personal Letter Example

Go through the personal letter and get to know what type of personal letters we draft or help clients draft at our online portal. You are in safe hands when you approach us. We do quality work in order to make sure that our clients achieve what they are searching for – quality. Don't waste any more time.  Start now and get your quality personal letter example now from our professional writers who are willing and ready to assist you.
Contact us if  you need personal letter examples!