What to Include in Your Readmission Letter for University
Students who are suspended from university or who voluntarily withdraw often try to get readmitted to the school at a later date. Most schools have readmission policies and procedures that students must follow to be accepted back into the school. Writing a readmission letter to university officials is often part of the process. The successful readmission letter you write should include the following information:
Paragraph 1. State that you are writing the letter to request readmission to the university. Also, include why you left the university in the first place. It may have been an academic suspension or you may have left due to financial difficulties, medical problems or some other reason.
Paragraph 2. Provide the reasons for whatever it was that caused your suspension or withdrawal. If you received an academic suspension for failing too many classes give reasons for your failure. Did you have a medical problem that prevented you from studying enough? Maybe you missed too many classes because of family problems? Provide an explanation that is clear and concise.
Paragraph 3. Assure officials that the problem has been resolved. Provide evidence that you are capable of handling your coursework and that you have a strong desire to return to school. Explain why you would like to be accepted back into their program.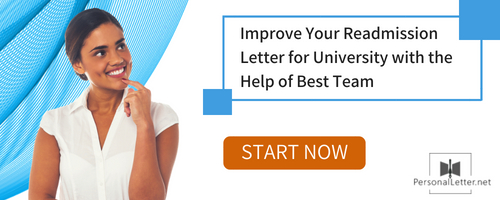 You may want to review a successful letter of readmission to university sample to get an idea of the types of things other students have included.
Suggestions for Writing a Letter for Readmission in University
The following suggestions may prove useful when writing your readmission letter to university:
Don't make excuses or lay blame. State any circumstances affecting your situation and accept responsibility.
Use a sample letter of readmission to university as a guide to formatting your own letter. For formatting purposes, the sample is best if from the university you are asking to be readmitted to.
Proofread your readmission letter. Submit a letter that is well polished and error-free to make a better impression.
Writing Personal Letter for University
It is a fact that hundreds of thousands of applications are sent to the universities by numerous students. The universities often have candidates send a personal letter in order to choose a well-rounded individual who stands apart from the crowd. Have a look at the step-by-step process of writing personal letter for university.
Doing the research by reading the material thoroughly.
Make a search for a statement of purpose of your desired school. Also, read the personal letters of others.
Now it's time to decide what you need to add in the personal letter for university. It should be strategic, selective and without any controversies.
You must ready to craft your response now. Pay attention to the opening paragraph, add details and complete it.
Finalize the personal letter for university after spending some time for editing. The editing and proofreading are key factors to make the letter more attractive. Never ignore them.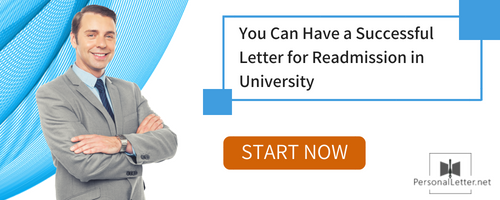 Tips to Write Personal Letter University Application
Follow these useful tips to generate an appealing personal letter for university. Most of the universities allow just 4,000 characters for personal introduction letter to show you the best applicant in front of the chosen university.
Do not character counter for making the draft.
A couple of hours are not enough to write a personal letter for university. Sometimes, this letter takes 15 days to be completed properly.
Use the perfect expressions and words to write this letter.
Enlist all of your strengths and skills which make you a suitable candidate for it.
The opening sentence must be perfect in every aspect. Use any surprising, unusual, interesting or funny sentence. Don't overthink about creating an opening line.
Be honest in sharing your details instead of adding false information about yourself.
Proofread the letter from top to bottom. The single spelling mistake would leave a really bad impression of your letter.
Personal Request Letters
Resumes and Cover Letters
Appeal Letters for Readmission
University Application Letters
Sales and Business Letters
Personal Letters of Recommendation
Recommendations by Experts
The personal letter university application insight of experts is quite different than we what we think about it. The expert entrepreneurs suggest that one should think a lot before starting personal letter for university. It really requires you to add appropriate and relevant content without no errors. Secondly, you need to stop reading it once you submit your university application. Read it out loud to identify the mistakes. Creating the personal application for university isn't a rocket science but your overthink make it indeed.
Have Us Write Your University Readmission Letter
We are letter writing experts and the professional writers we use are both skilled and experienced with readmission letter writing. Contact us for a well-written readmission letter that is sure to help with your appeal to be accepted back in school. Every writer we use has a relevant degree as well as a proven track record in letter writing. Some of the advantages of using our personal letter writing service include the following:
Unlimited free revisions of your letter for up to 30 days after completion.
Affordable rates on letters that are suitable for a student's budget
Easy and efficient online order and payment process
Customer support 24/7
If you don't know how to write a readmission letter for university, ask our professionals for help!