Personal Letter Writing Service with Expert Team
We write high-quality personal letters, no matter what purpose they serve.
Specialist writers
Timely delivery
Guaranteed features
We ensure that every customer gets the benefits they want.

Personalized & original letters
Our expert will deliver plagiarism-free text customized to your purpose.

Confidentiality & security
Your personal info will be unavailable to third parties – don't doubt that.

Quality & reliability
9/10 overall rating among customers. 98% of orders completed on time.

100% money-back guarantee
In case of dissatisfaction with the order, you can get your payment back.

Our Personal Letter Writing Service
Welcome to our personal letter services. We are here to do for you all your personal letters, including personal reference letter writing and other letter writing services. Our personal letter writers are the best in this field. Knowing how to write a letter is a fundamental skill you will use in business, school, and personal relationships to communicate information, goodwill, or just affection. Putting your thoughts to paper in the correct format is what we are going to teach you here. About our team:
Personal letter writers. We have the intellectual writing experts who never leave any stone unturned in impressing the readers. Once you give us a chance, you get to know us better then. All the modern templates are followed for writing this type of letters.
Personal letter editors. Our personal statement editing specialists actually focus on spotting all the major and minor errors in the document. They try to rectify such mistakes in the way you want. The editing team goes through the content by reading every word and its significance in that place thoroughly. Then, they pay attention to making the proper corrections.
Support representatives. All types of questions are entertained at the earliest possible time to assist the clients better. This is how we care about our buyers. We don't only focus on hiring the good writers/editors but the support team that responds well as per your requirements.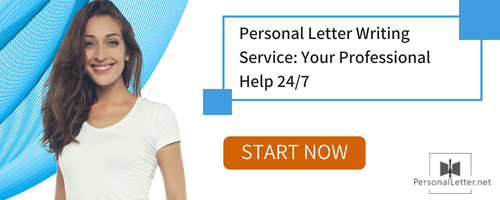 How Formal Should Your Personal Letter Be?
In order to write this kind of letter, first of all, decide how formal it needs to be. How you write your letter will depend on your relationship with the recipient. If you are writing to a government official, prospective employer, dignitary, academic official or anyone else with whom you hope to have a professional relationship, the letter should be formal. If you are writing to your current employer, a co-worker, you don't see socially, a distant or elderly relative, or someone you don't know very well, it should probably be semiformal. Get writing your personal letter of reference from our professional writing service.
How to use our service
Step 1
Share requirements
Complete the order form to tell us what you need.
Step 2
Make a payment
Pay for your order using one of our reliable methods.
Step 3
Log in to your account
Receive sign-in details by email & check the progress in your Customer Area.
Step 4
Download the final doc
Get notification and save the finished text from your account.
Order now
Reviews
We made much effort to draw customers' attention and achieve their loyalty. Want to know what our clients say?
Order now

Personal statement

My text is awesome. Thaaaanks;)
Readmission letter

omg, my letter is great! thank you guys
Admission essay

Writer did a great job. Just what I needed.
Readmission letter

Letter was alright. I finally got back to my college!
Letter of intent

My writer included all I wanted in my text. Thanks:)
Personal statement editing

You guys made my text perfect
Waiver request letter

thanks for help, text is fine
C
Customer #948539, India
Readmission letter editing

Letter is nice. I like it!
Admission essay editing

got my essay edited on time:) thanks a million
Statement of purpose

Thanks
C
Customer #959593, Canada
Readmission letter

Got accepted back into school thanks to you;)
Personal letter

Thanks for timely help.
Admission essay

You wrote a really good essay, thanks ;)
Waiver request letter

Thanks for letter. You helped me a lot
C
Customer #538539, Philippines
Readmission letter

Letter is okay, many thanks!!!
Personal statement

don't regret I used your service;)
Readmission letter

Letter is gooood. Gonna recommend this service to my friends
Statement of purpose

Not bad:) Thank you guys
Readmission letter

Thanks for letter;) I like it
Admission essay editing

You made my essay ideal. Thank you a lot!!
Readmission letter

You guys are great!
Personal statement editing

Thanks for editing my text, it's excellent now :)
Readmission letter

Great. Thanks
Personal statement

Thanks for personal statement. Can't believe I got into college :)
Statement of purpose

Didn't even expect such good text. Thaaanks!
Letter of intent

these guys are real experts. my letter is well well written
Readmission letter

Thank you for letter. It's amazing;)
Waiver request letter

You wrote awesome text. I'm happy with that!!
Readmission letter

Thank you for original letter. Goood job!
Personal statement

Personal statement is OK. Thanks;)
Order now
Tips on Writing Personal Letters

Writing a personal letters to apply for a job is neither too simple nor a very hard task. All you need to do is to follow the right format and useful tips by experts for writing this letter. You might be missing the opportunity to land the job if throw together application letter in hopes that no one shall read it. Letters are done at our online portal are done in a professional way and that is why we are in a position to give you tips on how to go about it in case you want to do it on your own.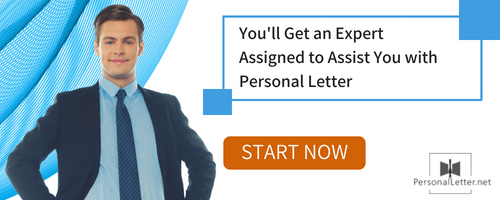 Decide whether you will send a handwritten one or an email. The way you send it also depicts a degree of formality. Formal ones should be typed and sent through the post. The exception is if your letter is extremely time sensitive, or if you know the recipient prefers emails. For informal letters, an email or handwritten letter is acceptable. For a semi-formal, you will have to make the call, if the other person has chosen to communicate with you primarily through email, then emails is probably a safe bet. Check out the simple process to write personal application letter within just 2 hours.
How to Write?
First of all, you need to prepare yourself for writing the letter. Make double columns on a piece of paper. Add the contact details and mention the info about the company.
Start writing the letter. The opening of this letter must show that you're so much excited to be the part of this company.
Describe the benefits which you can give to the company in the future.
Summarize the experience, qualifications, and strengths.
Explain why you're a right candidate by ending the personal application letter.
Send an invitation to the hiring manager in a unique way to communicate with you.
Sign off and write your name in the bottom.
9 Techniques That Brings Improvement in Your Application Letter
Don't take the spelling and grammar errors lightly. Such mistakes give the first impression of any candidate.
Show the long-term interest in working with the specified firm.
Prefer applying locally first.
Give a clear image of the intended post.
Mention all of your positive sides and level of competitiveness as well.
Before anything else, stay professional and never use vogue words.
Show how real you are by injecting your personality.
Never position yourself as needy, desperate or timid. Try to show your greatness in any case.
Check the appropriate skills and experience and then apply for a job.
Letter Writing Service: Some Advice by Experts
According to the professional business recruiters, the job application letter creates a 'do or die' situation. It is a kind of opportunity that you can avail or miss only through the application letter. Many people don't prefer following the layout of personal letter of such application letters. Well, this is their biggest mistake. You must share clear and concise info about the position you're applying for. Your excitement for availing this opportunity must be seen from the opening to the end of a job application. Don't admire yourself a lot.
Our Professional Letter Writers Can Write Best for You
Hire our personal letter writing service to get the professionally-written job application letter. We don't make just claims but also garner appreciation from numerous clients for ideal services. The job will be yours for sure. Our personal letter writing service writing service is here to help you with anything you need to know about letter writing. Get in touch with our professional personal letter writer online via our live chats, email or through our toll-free telephone number.
 Our personal letter writing service can guarantee you flawless and unique letters!