Writing a personal letter with our service is something you should try out and get to learn the difference between our expert letter writing service and other service providers. There are 5 essential steps in creating your personal letter:
1. Complete Your Order
You will need to fill out our order form to let us know what kind of letter you are looking for. Please don't hesitate to attach detailed instructions and your resume to the order – we do aim to make every letter absolutely personal.
2. Make Totally Secure Payment
Once you fill the order form in, you will be automatically redirected to the payment page. You will have a chance to choose your currency and payment method. All payments are 100% secure.
3. Access Your Personal Account and Get in Touch with the Assigned Expert
Once we receive your order details and payment, our support team will provide you with login details needed to get access to your personal account. Afterward, we will assign a professional writer to your order with whom you may get in touch through your account and discuss all the details of your personal letter.
4. Review the First Draft
Your writer will send you the first draft for review once it's ready. We highly welcome all comments from our customers, so don't hesitate to send your feedback to the writer. All revisions and edits are free.
5. Upload the Final Personal Letter
Once the revision is completed, you will be sent the final letter for review. And please be sure that we don't limit you in the number of revisions you may request during the writing process. Once you're fully satisfied with your piece, upload it from your account and enjoy outstanding results!
Writing a Personal Letter: What to Know
If you are writing a personal letter to a business partner and you have a personal letterhead, make use of it. Or if you just want your letter to look more professional, you can design a letterhead on a word processing program. Otherwise, simply write or type your full home address at the top of the letter, justified to the left. Write your street address on the first line, and your city, state and Zip code on the second line. If you have written address first, make two hard returns or leave a few spaces, then write the date.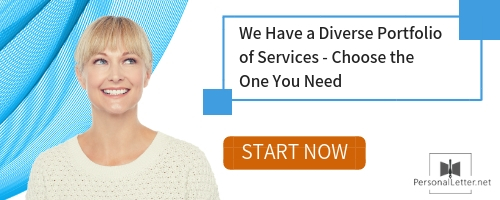 Otherwise, start with the date first, justified to the left. Make sure you write the date in full and use a proper personal letter format. If you are sending a semi-formal or informal letter via email, there is no need to add the date – the email will be time stamped. When writing personal letters to a formal recipient, make two hard returns after the date, or leave a few spaces, and write out the full name and title of the person you are writing to. On the second line, write the name of the company or organization.
Write the street address on the third line, and the city, state and zip code on the fourth line. If you are doing an email, then there is no need of doing all the aforementioned formalities. The above doesn't also apply to semi-formal or informal handwritten letters. Writing the name and address on the envelope is sufficient. If you are writing personal letters as an inquiry and you have no contact person, simply name, the company or organization and give its address. Writing personal letters with us is what you should start doing from now henceforth.
Don't hesitate to ask for professional help in writing a personal letter that will be exceptional!