In a business, there are matters that need a personal touch and a social personal business letter can do that for you. These are letters that are less formal than a standard business letter. It strikes a delicate balance between being personal and professional. Usually writing a personal letter may be because of a wide variety of reasons. It may be due to happy news such as congratulating a high performing employee for a job well done or saying thank you for a productive quarter. However, it may also be created for unfortunate reasons like sympathy for the death of an employee's loved one.
At times, it can be an invitation for an announcement of exciting news ahead. These letters may even be sent out to potential customers of your business. A good businessman knows that communication is vital and by reaching out to employees, colleagues and potential clients through a good social personal business letter sample the importance of people to an organization. This builds goodwill as the letter shows how the organization cares for you. Sincerity is often seen in a social personal business letter.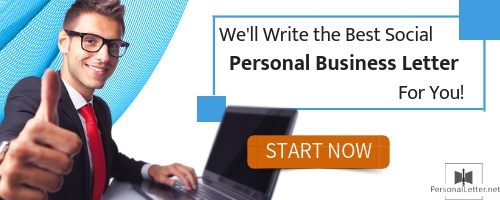 Through the use of personal pronouns and an active voice, this helps the business reach out to people on a personal level to get to know them. In turn, this will improve employee motivation or will leave a good impression on potential clients. As someone handling business, every small things matter and a simple social personal business letter can still make a lasting impression on people. There are a few steps that will allow you to generate a proper social personal business letter. Have a look at these steps:
First of all, choose the right font style for beginning the letter. The right format of a business letter must be written in either Times New Roman or Arial. For blocking the paragraphs, you can't use indenting: the margins with one-inch space must be used on all sides and use a common font to create an email business.
The right type of paper is necessary to choose.
Add all the necessary info about your company.
Add the date. The professional way is to write out full dates.
Write all the important information about the recipient.
Use salutation to mention the name of someone you're addressing by showing respect.
Write the body of a business letter.
By diving straight into the matter, make this letter a quick read.
A social personal business letter would be incomplete without the use of personal pronouns.
Be conversational, use active voice and write the text concisely.
For additional pages, use "second-page" letterhead.
Close the letter by summarizing your points clearly.
Ways to Recreate the Social Personal Business Letter
For reinventing the business letter, the very first thing you must do is planning. Read the content thoroughly and decide where you should make changes.
In the beginning, place all the content that a reader will want to know. It is a most suggested way to recreate social business letter in a proper manner.
Keep the content as much concise as you can. Remember, a reader won't have any interest to read the whole page regarding your introduction.
The Experts Suggestions for Social Personal Business Letter Sample
According to the professional writers of business letters or personal letter for graduate school, the most important thing is to think before turning your thoughts into text. Consider yourself in place of the reader and keep it in mind while writing a business letter. Follow any good social personal business letter sample. Don't try to do it all hurriedly. Another best suggestion by experts is trying to be as polite as possible.
There are certain characteristics which a good social personal business letter writer must possess.
The first characteristic is the ability to empathize with the receiver of the letter. They must first understand the current situation and put themselves into the shoes of the receiver. A social personal business letter sample of a letter sending condolences to a grieving employee should be sensitive to the situation.
In this situation, the letter sender should avoid harsh tones or insensitive statements like going back to work as soon as possible while the receiver is grieving. Another characteristic is being able to write their thoughts clearly. The writer should not rush in creating the letter. There should be ample time to organize these thoughts and put it in a clear and concise way.
The third characteristic is ensuring that the letter is free from grammar errors. Always remember that a social personal business letter is still a letter from your business and maintaining a professional image is important. Having a grammar-free letter will help avoid getting criticisms from the letter receiver or people who will be able to read the letter. Lastly, a social personal business letter sample a reader's sentiment all the time.
Personal Request Letters
Resumes and Cover Letters
Appeal Letters for Readmission
University Application Letters
Sales and Business Letters
Personal Letters of Recommendation
Why Our Services
If you're unable to reinvent a good business letter, you can ask us anytime to get proper guidance and help in this issue. Our experienced writers are highly mastered in creating business letters. The fee for each letter is also very nominal so that every client take benefits from our services. All of our writing personal letter services are worthwhile as we're the first choice of many people across the globe. We would like to help you with not just your social personal business letter but other writing needs through the following services:
Personal letter. Let us give your letters a personal touch!
Admission Essay. Do not stress about getting into a good university as we can assist you with your admission essay.
Scholarship essay. We will help you get your dream scholarship!
Letter of intent. Make clear agreements with our letter of intent.
Personal Statement. Stand apart from the competition with an amazing personal statement!
Readmission Letter. Going back to school should not be a worry as we will create your readmission letter.
Resume. Your dream job is a step closer when you let us create your resume.
Our social personal business letter sample is just one of the many letters we offer. Let us enhance your academic/career needs. Order now!
Get your social personal business letter followed by professional format and high-quality content right now! Be the lucky one by availing this opportunity now!