Writing a Personal Letter of Recommendation With Us
We write high-quality personal letters, no matter what purpose they serve.
Specialist writers
Timely delivery
Guarantees of Writing Top Letters of Recommendation Personal
We ensure that every customer gets the benefits they want.

Personalized & original letters
Our expert will deliver plagiarism-free text customized to your purpose.

Confidentiality & security
Your personal info will be unavailable to third parties – don't doubt that.

Quality & reliability
9/10 overall rating among customers. 98% of orders completed on time.

100% money-back guarantee
In case of dissatisfaction with the order, you can get your payment back.

When Writing a Personal Letter of Recommendation Is Vital
You never know when your friend will ask you to write a recommendation letter for them. It is a semi-formal document that states the positive qualities of a person and proves they fit for a job position or other official institution.  Letters of recommendation personal reference are one of the best ways to learn new information about the candidate's character traits. These letters are usually candid and realistic and can influence an employer's decision.
The first situation which comes to mind is a job application. We all know that today employers pay more attention to a person's soft skills than university diplomas (that is not a call to quit college!). It is why a good letter from a previous place of work might be a determinant.
Secondly, you will be writing a personal letter of recommendation when your friends apply to college or university. Like employers, deans and rectors appreciate personal skills more than academic achievements. The former is the one that causes the latter and not vice versa.
Also, some private clubs and non-profit entities may require such letters. With their help, candidates prove their financial capability and strong motivation and confirm their words and achievements.
The biggest problem in writing a personal recommendation letter is to make it seem professional and reliable. Unfortunately, not everyone can cope with this. It is why we exist – to turn your sincere praise into a convincing document.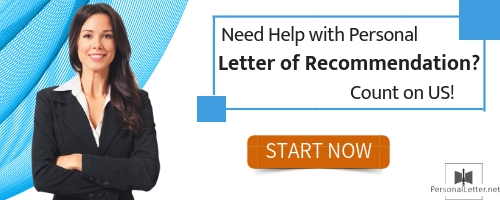 Order Personal Letters of Recommendation Easily
Step 1
Share requirements
Complete the order form to tell us what you need.
Step 2
Make a payment
Pay for your order using one of our reliable methods.
Step 3
Log in to your account
Receive sign-in details by email & check the progress in your Customer Area.
Step 4
Download the final doc
Get notification and save the finished text from your account.
Order now
Reviews
Do you still hesitate to trust us to write a letter of personal recommendation? We have gathered many customers' reviews of our writing work. You are welcome to read them!
Order now

Personal statement

My text is awesome. Thaaaanks;)
Readmission letter

omg, my letter is great! thank you guys
Admission essay

Writer did a great job. Just what I needed.
Readmission letter

Letter was alright. I finally got back to my college!
Letter of intent

My writer included all I wanted in my text. Thanks:)
Personal statement editing

You guys made my text perfect
Waiver request letter

thanks for help, text is fine
C
Customer #948539, India
Readmission letter editing

Letter is nice. I like it!
Admission essay editing

got my essay edited on time:) thanks a million
Statement of purpose

Thanks
C
Customer #959593, Canada
Readmission letter

Got accepted back into school thanks to you;)
Personal letter

Thanks for timely help.
Admission essay

You wrote a really good essay, thanks ;)
Waiver request letter

Thanks for letter. You helped me a lot
C
Customer #538539, Philippines
Readmission letter

Letter is okay, many thanks!!!
Personal statement

don't regret I used your service;)
Readmission letter

Letter is gooood. Gonna recommend this service to my friends
Statement of purpose

Not bad:) Thank you guys
Readmission letter

Thanks for letter;) I like it
Admission essay editing

You made my essay ideal. Thank you a lot!!
Readmission letter

You guys are great!
Personal statement editing

Thanks for editing my text, it's excellent now :)
Readmission letter

Great. Thanks
Personal statement

Thanks for personal statement. Can't believe I got into college :)
Statement of purpose

Didn't even expect such good text. Thaaanks!
Letter of intent

these guys are real experts. my letter is well well written
Readmission letter

Thank you for letter. It's amazing;)
Waiver request letter

You wrote awesome text. I'm happy with that!!
Readmission letter

Thank you for original letter. Goood job!
Personal statement

Personal statement is OK. Thanks;)
Order now
How We Succeed in Writing a Personal Recommendation Letter
Positive assessments from the customers motivate us to keep up to high standards. The process of writing a good letter of personal recommendation requires a thorough pre-research. The first thing we do after having received the order is to learn everything you have mentioned about the task. Here are some tips we use to write a perfect personal recommendation for you:
We write the personal recommendation according to its purpose (career, college, etc.)
We include all the information you want to mention
We ask for many details: the person's age, achievements, goals
We contact you if something is unclear
We follow the strict formal structure of letters of personal recommendation for college
We check the text for mistakes and plagiarism
We listen to your comments and rewrite the letter if needed
Moreover, your writing deadline is a rule for us. There have been a few cases when we asked to postpone the writing deadline because the task had a large volume and required more time. Nevertheless, we respect our clients and never give them up. As you could have seen in the review section, we succeeded in meeting their writing needs!
How Your Letter of Recommendation Personal Will Look
A strict writing structure is a must. It is a skeleton of a personal recommendation, and the description of personal traits is its muscles. This structure is not a set of cliches but a reliable form to fill in. If you follow it, you will never forget to include a piece of information or break the balance of the personal recommendation's layout. Even an informal letter has a traditional consequence of paragraphs, so why should a letter of recommendation personal be different?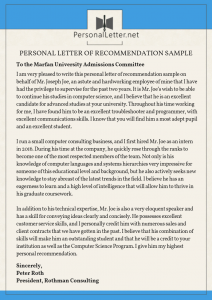 There are a lot of samples of recommendation letters on the web. Below you can find the structure we use; however, we can change it if you insist or if a situation requires it.
Addressing a person who will be reading these personal recommendations.
Writing w brief description of the personal recommendation's writing purpose.
Writing a statement of the position/job/role the personal recommendation is written for.
Writing an explanation of why you are writing a personal letter of recommendation nowadays
Writing a description of your friend's most remarkable features and qualifications.
Writing a summary of everything written above.
Writing a conclusion, contacts, and a signature.
Due to this structure, writing a personal letter of recommendation becomes easier. It helps us focus on the most important parts and not miss such tiny things as your email and address. Also, it is a guide explaining what information to provide.
Sometimes employers who demand letters of recommendation personal ask for specific paragraphs. They might be interested in particular situations to confirm a candidate's skills. Recommendation letter writers usually merely state the qualifications and do not back them up with facts. We always advise our clients to let us include a story like that when writing a personal letter of recommendation nowadays!
Receive Letters of Recommendation Personal Reference From Us
A letter of recommendation is an important document. It must be perfect in terms of grammar, vocabulary, and objectives. Naturally, customers are worried about the quality of letters they have delegated to a third party.  "How can a stranger write personal letters of recommendation?" they wonder. Although it seems absurd, it is possible when a writer is a professional. Who we are! By ordering recommendation letters from our service, you get:
Individual approach to writing detailed and realistic letters
Personal and payment data security due to modern technologies
High-quality, unique, and cliche-free letters
A guaranteed 100% refund if you are not happy with the results
A fair price-quality-speed ratio in writing a personal letter of recommendation for you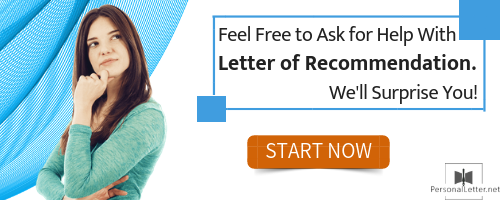 There is no denying that every company says those things about itself. However, we have many proofs – the reviews of our numerous clients. You can find them on the website and see the people's positive experiences with us.
Like any other responsible company, we have some principles to follow in everyday work. For us, they are a lighthouse that helps us reach our goals safely. You will not be disappointed by us because:
We keep it positive – both personal recommendations writing and communication style
We are open – you can check the progress at any time
We respect you and guarantee you security
You will have your money back if the result is unacceptable
We are glad to help you with writing a personal letter of recommendation quickly!
Our writing service is very flexible and customer-oriented. Why? We not only write letters of recommendation from zero but also edit your already existing drafts! If it makes you feel more confident, you can sketch the personal recommendation, and we will finish it. Writing letters of personal recommendation has never been so simple.
We are looking forward to writing a personal letter of recommendation that you need!