High-Quality Writing a Personal Reference Letter Assistance
We write high-quality personal letters, no matter what purpose they serve.
Specialist writers
Timely delivery
Ordering a Personal Reference Letter: Guaranteed Features
We ensure that every customer gets the benefits they want.

Personalized & original letters
Our expert will deliver plagiarism-free text customized to your purpose.

Confidentiality & security
Your personal info will be unavailable to third parties – don't doubt that.

Quality & reliability
9/10 overall rating among customers. 98% of orders completed on time.

100% money-back guarantee
In case of dissatisfaction with the order, you can get your payment back.

Some Info About Writing Personal Reference Letter
When seeking a job, you must consider many aspects. Firstly, decide what your vocation is. Secondly, write a constructive CV and a cover personal letter for the selected position. Then, it is necessary to prepare carefully before the interview. And do not forget about the personal reference letter! Employers may ask about it at the interview. What is it, and why is it so hard to write?
A personal reference is a document that describes you as an employee or a student. Usually, writing a letter of reference personal is the job of the HR manager, direct boss, teacher, or colleague. Who else knows a person better than them?
This personal reference significantly increases the applicant's chances of getting the position. If a reliable company or a famous university claims the person is well-qualified, only a few employers would not believe it. A personal reference letter is necessary for students since these documents focus on the candidate's personal qualities and soft skills. Sometimes it is more important for admissions committees than grades and exam results.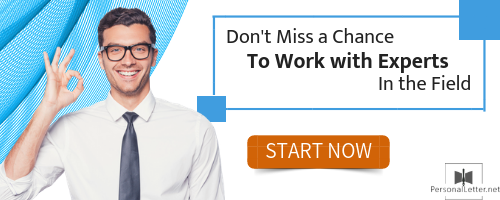 Some Info About Writing Personal Reference Letter
Step 1
Share requirements
Complete the order form to tell us what you need.
Step 2
Make a payment
Pay for your order using one of our reliable methods.
Step 3
Log in to your account
Receive sign-in details by email & check the progress in your Customer Area.
Step 4
Download the final doc
Get notification and save the finished text from your account.
Order now
Reviews
What helps spread a good reputation in society? Customers' reviews! Please read the comments of our clients to decide if this personal reference letters service is worth choosing.
Order now

Personal statement

My text is awesome. Thaaaanks;)
Readmission letter

omg, my letter is great! thank you guys
Admission essay

Writer did a great job. Just what I needed.
Readmission letter

Letter was alright. I finally got back to my college!
Letter of intent

My writer included all I wanted in my text. Thanks:)
Personal statement editing

You guys made my text perfect
Waiver request letter

thanks for help, text is fine
C
Customer #948539, India
Readmission letter editing

Letter is nice. I like it!
Admission essay editing

got my essay edited on time:) thanks a million
Statement of purpose

Thanks
C
Customer #959593, Canada
Readmission letter

Got accepted back into school thanks to you;)
Personal letter

Thanks for timely help.
Admission essay

You wrote a really good essay, thanks ;)
Waiver request letter

Thanks for letter. You helped me a lot
C
Customer #538539, Philippines
Readmission letter

Letter is okay, many thanks!!!
Personal statement

don't regret I used your service;)
Readmission letter

Letter is gooood. Gonna recommend this service to my friends
Statement of purpose

Not bad:) Thank you guys
Readmission letter

Thanks for letter;) I like it
Admission essay editing

You made my essay ideal. Thank you a lot!!
Readmission letter

You guys are great!
Personal statement editing

Thanks for editing my text, it's excellent now :)
Readmission letter

Great. Thanks
Personal statement

Thanks for personal statement. Can't believe I got into college :)
Statement of purpose

Didn't even expect such good text. Thaaanks!
Letter of intent

these guys are real experts. my letter is well well written
Readmission letter

Thank you for letter. It's amazing;)
Waiver request letter

You wrote awesome text. I'm happy with that!!
Readmission letter

Thank you for original letter. Goood job!
Personal statement

Personal statement is OK. Thanks;)
Order now
How Do We Create Professional Reference Letters?
There are several types of letters of reference personal documents.
Firstly, there are academic and professional personal references. A person needs the former to enter a university and the latter – to get a job offer.
Secondly, there are a lot of different people who can write a recommendation letter. There are official reference letters – from deans, rectors, previous employers, etc. On the other hand, a friendly personal professional reference is also possible.
As a result, people feel confused when somebody asks them to write such a letter. Indeed, you have to spend a lot of time studying the subject's CV and recalling their positive contributions. After that, you will have to put it into words. Sounds complicated, doesn't it? Contact us, then!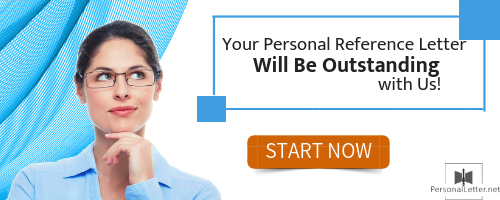 Our experts pay a lot of attention to the style, structure, and general layout of a personal letter of reference. Usually, these personal references must highlight the following points:
Some information about the letter's subject: their position and responsibilities
Main achievements and projects they completed.
Your conclusion on whether the person is recommended for acceptance and why.
To answer these questions in detail, we ask the customers about the receiver and the subject of the letter of personal reference. You should not worry about information safety – we guarantee you absolute confidentiality!
Also, there is a typical structure for this type of document. Although a personal reference's receiver might request some changes to get information that interests them, the following parts are the must:
Title
Information about the subject and how you are related to them
Brief description of the person's responsibilities (or university achievements)
An example of their ability to cope with assigned tasks
The situation that proves their developed soft skills and ability to overcome obstacles
The writer's impression of the personal reference letter subject
Summary (I recommend / I do not recommend)
Date, signature, and your contact information
When writing a personal reference letter, we make sure that it fits into one A4 page and meets all the requirements of business communication. We understand that the client's reputation depends on the quality of our results.
Our Principles of Writing Reference Letter
Every company has a set of rules that help it move and develop. We are not an exception! To become a leader, an enterprise should create an efficient corporate culture and follow the formulated principles. Below you can read about the three Atlases that keep personalletter.net on the top of the personal reference letter writer chart.
Firstly, it is professionalism. As we have already mentioned, we only hire high-qualified writers who have knowledge in different fields of science.  As a result, we choose a professional reference letters expert that fits the client's task topic the most. They take their work seriously and are flexible as every task is unique.
Secondly, we are customer-oriented. We will meet all of your requirements, submit the paper in time, and edit the final version if you think something is wrong. This principle also means that the company's workers are well-mannered, calm, and always ready to help.
Thirdly, we keep the process of writing a reference letter clear. A client can contact the writer at any time and inquire about the progress. The communication channels we use are email and a website chat. You are always welcome to share your worries with the Support Team!
Delegating work does not mean you are not responsible for it. That is why it is essential to choose a reliable outsourcer among many who write personal references. By choosing our company, you get:
Your personal reference letter ready in time
Your requirements are fully met
A personal writer to contact at any time
Personalized and plagiarism-free personal letter
Security and safety of personal information
A 100% refund if we do not meet your needs
We guarantee you a personal approach and such a good letter of recommendation personal reference that nobody will assume you are not a letter author! Our team unites only verified professionals with high-degree diplomas. They are dedicated to the letter and do their best to please a client (read – you!)
As you can see, this writing reference letter is not about gold-digging. We appreciate the customers' trust and do our best not to fail them. Are you seeking a reliable service? It is a few clicks away from you!
Your Best Letter of Personal Reference Writing Service
It is a huge responsibility if someone has asked you to write a personal reference letter. Your friend cannot change the grades in the certificate or diploma. People only can influence the quality of their motivation, personal references, recommendations, and CV. These personal documents, if properly prepared, can increase a person's chances of admission and getting a job. So, you do not have a right to treat the writing personal reference letter unseriously.
Nothing is ashaming about asking for help writing a letter of reference! The company whose website you are visiting right now is a reliable partner to assist you in this daunting task. We can both create a personal reference from zero and edit your drafts! Just send us a sketch and see what happens.
Trust Us to Write a Personal Letter of Reference for You!
Why choose us to create a personal reference letter with us?
When placing an order for writing a professional reference letter, you get not a proofread document but an individually prepared personal reference of recommendation ready to be sent to a university or an employer. You only provide the information we need and wait. Or you can participate in the process and make your personal suggestion online. The personal letter writer always considers the customer's wishes.
Need writing a good reference letter – what a task! But let us do it for you, and you will not regret it!