Rehire Letter to Employer: How to Reapply to Previous Company
Everybody do struggle for a better life and for sake of this aim, job switching is a common phenomenon all over the globe. There could be many reasons behind leaving a job such as less salary, strict and long working hours, higher studies, downsizing due to declining financial condition of a company, bad attitude of the boss or some personal reason.
Well, at the time of leaving the job, the reason for leaving the job doesn't matter too much. At that time, the important thing becomes that, you have arranged a new job or not. It is also mandatory to take complete information about the nature of the new job, working environment and attitude of boss. Otherwise, there are possibilities of having no compatibility with the new employer and you have to write a letter to previous employer to ask for a job back.
People usually think that writing a rehire letter to employer is a very difficult because justifying the mistake of leaving the company and telling the desire of rejoining the company is not an easy task. Well, it is not, only a reviewing a well written sample appeal letter for college readmission is much good enough to take an idea about writing a winning rehire letter.
Winning Sample Letters to Request Rehire
Steps to Write a Good Letter to Previous Employer
Lots of online sample letter of reapplication to previous company are available at the internet to guide the people about format, structure, and length of rehire letter. However, not all the letter to former employer for rehire sample can reveal the steps of writing a good rehire letter, let's take an overview of these highly effective steps:
Stay up-to-date about relevant vacancy:
When you leave any post, it becomes obvious that a company will refill the position immediately to avoid any loss. Now, when you decided to rejoin the previous employer, you should check the availability of relevant vacancy at first. For this aim, you can contact with HR or some friend, who is still doing job in the previous company.
Writing the reintroduction:
When you will found any relevant vacancy to your previous employer, start writing the rehire letter immediately. The first step in writing the rehire letter to the previous employer is reintroducing yourself, your previous position, department and immediate boss. Don't assume that writing only your name at the bottom of letter will be enough to reintroduce you.
Justifying the reason for leaving the job:
Don't try to become smart while justifying the reason for leaving the job. Every employer remains update about current market position. Tell the truth to previous employer that why you left the job and what circumstances you had to face due to which you want to join the company again. By telling the truth, your employer will defiantly oblige your honesty and will reconsider you on the basis of your previous performance.
Emotional ending with courteous lines:
End your rehire letter with some emotional wording that you are looking forward for reconsideration and missing the great working environment and company of nice colleagues. Moreover, you are much enthusiastic to serve the company in a better way.
How to Talk about the Reasons Why You Left
Getting inspiration from a winning sample letter to ex boss asking for job is a wise step to write a rehire letter. Let's see, how to talk about the reasons why you left the company along with sample letter to previous employer for rejoining:
If you were downsized: If you lose the previous job due to downsizing policy of company, you can write the rehire letter in a much better way than you left the company due to your own reason. Here you should explain the importance of your seat in the company and your personal performance in terms of serving the company. You should also highlight those rewards which are achieved due to your best performance.
Example: Respectfully stated, I was working as a marketing executive in the commercial department of this esteemed organization till July 31, 2018. During my career, I received two annual awards on an extraordinary performance. I lose my job due to downsizing policy of company, but could not start the job at new place due to emotional attachment with a professional working environment of company. Please reconsider me for the position that is still vacant in your organization during my absence.
If you left for another job: If you left the previous employer due to offer of better salary from another company, but now want to rejoin the former employer due to non-adjustment in the setup of new company, you should write the rehire letter without wastage of time. In reapplication letter, you should clearly mention your problems in the present company and admit your mistake for leaving the company. You should also show determination for serving the company in much better way.
Example: With due respect, it is stated that I was working as accounts executive in your valued organization till August 31, 2018. I started the new job in another organization, but I am unable to adjust within the unprofessional environment of present company. I admit my wrong decision of leaving a well-established and employee-friendly company. Please reconsider me for the vacant position of accounts executive. I assure you that I will be serve the company with more devotion.
If you left to study: When you left a job due to higher studies and want to rejoin the company after completion of study, you can write a rehire letter with much higher expectations. You can demand the next rank on the basis of your higher qualification as well as previous performance.
Example: Dear Sir, I was doing the job in this venerated organization as HR executive till June 30, 2016. I left the job due to securing admission in MBA – HR Management. Now I have completed my degree and came to know that you have vacant position for HR Manager. I hope, you have not forgotten my performance as HR executive and will consider me for this post on the basis of my higher qualification and previous performance.
If you left for personal reasons: If you have left the job due to some personal reason like greater distance from your home, but now feeling your decision wrong and want to rejoin the organization, you should write the rehire letter immediately. You should admire your wrong decision and assure the better performance on rejoining the duty.
Example: Respected sir, I was working in this esteemed organization as receptionist till August 31, 2018. I left the job due to personal problem which is greater distance of office from my home. But after leaving the job, I realized my mistake. Now I am jobless and want to rejoin the company. I assure you; I will never complain for longer distance and will work more enthusiastically. I hope, you will reconsider my application and will give me a chance to rejoin the company.
Tips to Write a Good Letter to Rehire
You can read a sample letter to previous employer for rejoining, which can help you. Here are a few tips, which you will find helpful to write a letter how to get rehired after being fired:
Format: The format of rehire letter to employer should be like any other official business letter. Information like your contact, date and the employer's contact should be written at the top. Don't forget suitable salutation in the beginning. Signature at the end is very necessary.
How to remind who you are: Mention the name of the department you have worked previously and the title of the job. You can also discuss your previous job duration. Mentioned the dates from which you were employed in this company.
Your previous contributions: If you had worked for a while in the company, you might have contributed to the company. For example, if you have saved any money for the company, you can mention that.
Coping with the new job: It's important to mention how you can cope with this new job now. You can mention your experience in the other company, which helped you or any other refresher course, which you have completed in near future. A workshop which built your capacity, anything which can have positive impact on the job, can be mentioned.
Your achievements: When you are seeking reemployment, mention your achievements after leaving this job. The designations on which you were appointed or any other achievements. Express the difference between your former position and now.
Ask for better: When you are writing your reapplication letter for job, ask for better. Convince the company that now you have more experience, you have built your capacity, so now you deserve more. A better position and better salary.
Editing: Once you have finished, make sure you edit your letter to previous employer and make necessary changes.
Proofreading: Ask someone else to proofread your rehire letter to employer. A third person can proofread it better than you.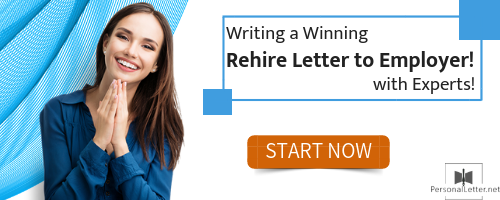 Impeccable Reapplication Letter Online Writing Help
Either you want to write letter to previous employer to ask for a job back or college readmission letter sample, we provide our services to all those clients, who have no time to write these official documents or they are confused about the content. We can write variety of documents for you. Let's have a look:
Cover letter
We provide cover letter writing services, no matter where you want to apply. We write cover letter writing for admissions in schools and universities and for people asking jobs. Cover letter is a technical document and very important one. A good cover letter can enhance your chances to get a job.
Letter of interest
Another very important document is letter of interest, which you write if you are interested in any job or want to join a business. But most of the people have no idea about the content and that's the reason they can't write it properly and lose their chance. We have experts, who know the requirements of letter of interest, its content and format. So, to get a perfect sample letter of intent to return to work after resignation, contact us with full confidence.
CV
If we say CV is the most important document in our lives, it would not be wrong. It is important for admission in university, to seek a new job and to get your job back. We have professionals who can write your CV in such a way that it will highlight your abilities, enhances your chances.
It doesn't matter that you need help in writing a sample letter of intent to return to work or some other document; our experts are highly experienced in writing all types of technical documents. We have experts from all backgrounds, who are professionally trained. Other than writers, we have editors and proofreaders to perform these jobs. We provide original sample letter to get job back and documents, which are free from plagiarism. Guarantee on time delivery is our specialty.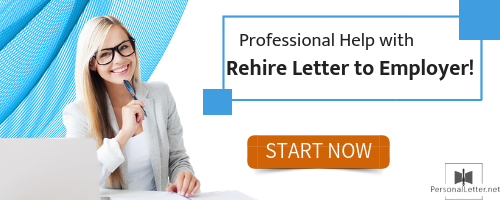 Service for creating rehire letters to your satisfaction
Our business looks forward to fulfilling your most ambitious expectations. Engage in a private chat with your rehire letter expert. Receive automatic updates on each stage of the progress. To achieve the intended result, keep track of producing a rehire letter.
Our diligent editors and proofreaders review each letter before we deliver it to you. No inaccuracies will be present in your private letter. But what if changes are still required to your letter? A two-week editing period begins as soon as we finish creating a personal letter. You can ask for free adjustments at this time (as many as you need).
You may ask for a refund if, for some reason, we are unable to meet your writing needs. However, with our personalized letter service, such instances are incredibly uncommon.
Our authors offer all the elements of a top-notch rehire letter:
The grammar that is immaculate
Words used relevantly to the discourse
Formatting and structure of speech
Necessary points to include
The letter isn't complete until our editors give it a thorough review. They pay close attention to detail, so errors won't escape their notice. To provide you with even greater service, our letter professionals continually upgrade their credentials.
Afraid you won't finish a letter on time because you started it too late? When a letter guide is unable to assist, we are here to aid! Our writers are always here to help you. You'll receive a letter by the deadline whether you need it right away or in five days. In some cases, we can even write it in advance!
The quality of composing letters may never be impacted by such a fast rate. Excellence is the top priority for us. We just blend error-free content with rapid performance perfectly. Fill out the order form to let us know what you require, use one of our secure payment options to complete your order, obtain sign-in information through email and access your customer area, receive a notification when the text is complete and save it to your account.
Are you looking for some professional help to write a catchy rehire letter to employer? Contact us and get the desired letter at the cheapest price and committed time limit!