Steps in Writing an Application Letter for Readmission in School
There are many students who withdraw from school or are suspended, who later wish to be readmitted to the school. They then must write an application for readmission in school to convince school officials to accept them back. Our personal letter writing services can help with that. The following steps for writing an application letter for readmission in school are:
Check with the school for its specific readmission policy. Application for readmission in school varies from institution to institution, so make sure you know what it is at the school where you want to be readmitted.
In the opening paragraph state why you are writing (request to be readmitted) and why you left school (suspended for academic reasons, withdrew due to personal problems)
The second paragraph should state the reasons that caused whatever problem that took you out of school. If your grades were too low to explain why they were too low. Be clear and concise in your explanation.
The third paragraph should cover what you have done to resolve the problem and demonstrate your sincerity and desire to be readmitted.
Proofread your letter and make sure it's in the proper format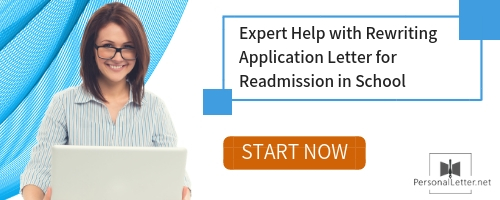 Tips for Writing an Application for Readmission in School
If you are in the position of having to write a readmission application in school to be readmitted then the following tips and suggestions can help:
Don't make your letter a bunch of excuses or lay blame on somebody else. If your leaving school was ultimately the result of some hardship, avoid letting your letter become a sob story. School officials have probably heard every story and reason there is. Be honest and accept any mistakes you have made. State circumstances clearly and concisely.
Keep the tone and style of your letter business like
Submit an error-free letter. Make sure that there are no spelling mistakes or grammatical errors in your letter. A sloppily written letter indicates to officials that you don't care enough about being readmitted to correct mistakes.
If you are unsure how to write an application letter for readmission in school, consider using our professional letter writing service for your readmission letter.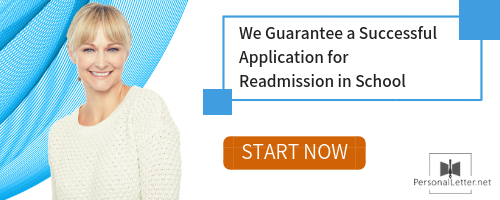 Personal Letter for Graduate School
A critical component of your graduate school's application is known as a personal letter. It is used by people to apply for teaching jobs and it has a personal letter format. To know whether you're best fit for their program or not, this is the mere chance to persuade your colleagues and future advisors. You as a real person is shown through this letter in front of them. Have a look at the process of writing personal letter for graduate school.
First of all, make a list of all the reasons to apply for any graduate school program.
Make a research of the faculty to show your higher interest in seeking a job for any specific program.
Identify the opportunities for teaching by focusing on certain aspects.
The campus's additional opportunities must also be explored to become a potential teacher in the future.
Take your time and develop the outline in a proper way.
A memorable introduction is important to make your letter more noticeable.
It's a time of reviewing the personal statement to figure out the errors and mistakes.
Try to improve the tone and content in the appropriate way.
Don't forget to know about the outside feedback of people about the graduate school.
Don't use vague words.
Tips to Create Personal Letter for Graduate School
Select your chosen career by articulating your reasons.
Write concise and clear sentences.
Be sincere whatever reasons you've for applying.
All of your professional interests must be added to the letter.
Demonstrate the capacity and motivation to become a successful teacher in the future.
Don't forget to refine the essay and proofread it carefully.
Don't feel bothered by writing a letter. Enjoy it while writing from opening to the closing part.
Useful Advice by Experts
Many expert recruiters of renowned graduate schools have observed the weird tones to apply for teaching jobs in the letters. According to them, some people start begging literally. It shouldn't happen as one must have trust in his/her skills and qualifications. Never do it at all. Secondly, the length of the letter should neither be too short nor very long. One and a half pages are sufficient to develop personal application letter. The experts also shared that people may feel reluctance in their participation or interest in extra-curricular activities. You should also share such kind of personal info as the selectors find it engaging a lot.
Personal Request Letters
Resumes and Cover Letters
Appeal Letters for Readmission
University Application Letters
Sales and Business Letters
Personal Letters of Recommendation
About Our Personal Letter Writing Service
We offer letter writing services for all types of letters including application letters for readmission to school. Our writers are skilled professionals and all possess different degrees. They also possess experience in readmission letter writing and are familiar with what school officials like to see in readmission letters. Additional benefits of using our letter writing services include:
Guarantees on every letter with free revisions up to 30 days
Inexpensive rates that are affordable on student budgets
Customer support 24/7
Complete customer confidentiality
Contact us for a readmission letter to the school that will make your case in a compelling manner that will help convince school officials to accept you back in school. What's more, we can assist you with a readmission letter to college as well. If you're looking for professional writers to create personal letter for graduate school, then make us your choice and get satisfied services.
Write a strong application letter for readmission in school or personal letter for graduate school with our efficient help!