Writing a Readmission Letter With Pros: Prime Content Guaranteed
Get readmitted with a compelling appeal letter. Prove you're ready to earn the desired degree!
Experts specializing in appeal letters
Customized letter
No matter what reason for readmission is
What guarantees we provide
We offer our users a full benefits package and make good on our promises.


Experts specializing
in appeal letters
Our experts are practiced at writing appeal letters and hold relevant degrees.


Unique & personalized letter
Plagiarism is out of the question for us since customized writing is a must.


Reasons explained,
problems solved
We'll shed light on the reason you left the program and explain why it won't happen again.


Properly structured
& formatted letter
Your readmission letter will meet the requirements both for style & content.


Money-back guarantee
Nobody may access the data you provide to us due to our privacy & security policy.


Confidentiality guarantee
If, for some reason, you find the order unsatisfactory, be sure to get a refund.
Consistently high quality
Our writers provide all components of an excellent personal letter:
Grammar
Structure
Word choice
Formatting
Speech style
Needed points
Text isn't finished until our editors check it to perfection. They have an eye for detail, so mistakes won't go unnoticed. Our experts consistently boost their qualifications – everything to deliver even better service to you!
*Tap on the number to see more info.
SAMPLE LETTER FOR READMISSION
To the Johnson University Discipline Committee
I am writing to appeal for readmission to Johnson University. About two years ago, I came before your committee on a charge of underage drinking and reckless actions. I was foolish in thinking that my actions were completely harmless, and due to my carelessness, a classmate of mine ended up in the hospital. My mistakes have haunted me for the last two years, and I know that the school was justified in expelling me. However, I have taken this time to reflect on my actions and grow as an individual, and I hope that this letter will demonstrate my wish for a return to study.
The reasons for whatever it was that caused your suspension.
When I first enrolled at the university, I was focused more on the social aspect of school I had seen on television. I paid little attention to the privilege I had in getting higher education. When I was expelled from school, I had to find a job and started working on self-improvement. I realized the true reason I aimed to attend the university. I wanted to enhance my prospects and build a career based on the knowledge I would gain from my study.
Assure officials that the problem has been resolved.
I expect to return to Johnson University to start my study anew, this time focusing on academics and opening my mind to new perspectives. The last two years have helped me mature into a person who better understands responsibilities and obligations to the community, and I hope that you will give me another chance to study at the university.
Sincerely,
Dylan Knowles
Explain why you would like to be accepted back into their program.
Tailor-Made Readmission Letter to University as per Your Requirements
Unfortunately, not every student copes with academic challenges during admission. Many of them come across various hurdles. For example, some applicants don't correspond to college academic standards. However, they all have a second chance. Many colleges allow them to readmit. From school to school, there may be different policies of student readmission. Anyway, most of them ask to write the readmission letter as a part of the application.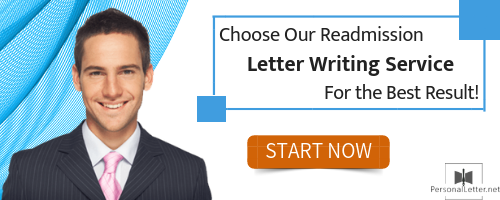 If a student decides to enter the readmission process, there is no time for laziness. It is not as easy as ABC. A good readmission letter for college may become a student's lucky ticket. That's why a student needs to make every effort to write it in the best way. A student needs to follow every admission requirement. A readmission letter to university is a challenging type of academic assignment. It needs to have the appropriate format, as well as structure.
It demands to reflect:
How to use our service
Step 1
Share requirements
Complete the order form to tell us what you need.
Step 2
Make a payment
Pay for your order using one of our reliable methods.
Step 3
Log in to your account
Receive sign-in details by email & check the progress in your Customer Area.
Step 4
Download the final doc
Get notification and save the finished text from your account.
Order now
Reviews
We made much effort to draw customers' attention and achieve their loyalty. Want to know what our clients say?
Order now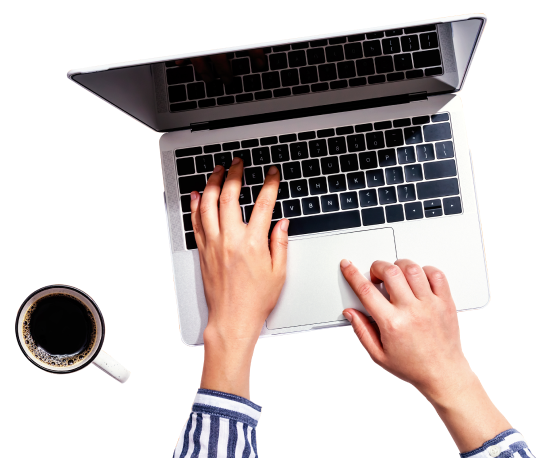 Personal statement


My text is awesome. Thaaaanks;)
Readmission letter


omg, my letter is great! thank you guys
Admission essay


Writer did a great job. Just what I needed.
Readmission letter


Letter was alright. I finally got back to my college!
Letter of intent


My writer included all I wanted in my text. Thanks:)
Personal statement editing


You guys made my text perfect
Waiver request letter


thanks for help, text is fine
C
Customer #948539, India
Readmission letter editing


Letter is nice. I like it!
Admission essay editing


got my essay edited on time:) thanks a million
Statement of purpose


Thanks
C
Customer #959593, Canada
Readmission letter


Got accepted back into school thanks to you;)
Personal letter


Thanks for timely help.
Admission essay


You wrote a really good essay, thanks ;)
Waiver request letter


Thanks for letter. You helped me a lot
C
Customer #538539, Philippines
Readmission letter


Letter is okay, many thanks!!!
Personal statement


don't regret I used your service;)
Readmission letter


Letter is gooood. Gonna recommend this service to my friends
Statement of purpose


Not bad:) Thank you guys
Readmission letter


Thanks for letter;) I like it
Admission essay editing


You made my essay ideal. Thank you a lot!!
Readmission letter


You guys are great!
Personal statement editing


Thanks for editing my text, it's excellent now :)
Readmission letter


Great. Thanks
Personal statement


Thanks for personal statement. Can't believe I got into college :)
Statement of purpose


Didn't even expect such good text. Thaaanks!
Letter of intent


these guys are real experts. my letter is well well written
Readmission letter


Thank you for letter. It's amazing;)
Waiver request letter


You wrote awesome text. I'm happy with that!!
Readmission letter


Thank you for original letter. Goood job!
Personal statement


Personal statement is OK. Thanks;)
Order now
Clear purpose of readmission.
Explanation of poor grades in the past.
Evidence of resolving student's troubles.
Motivation for becoming a student.
It's important to be polite and address the correct person writing a readmission letter. Prove that you are an eager beaver who just has had bad luck. Show that now you're ready for study success.
Our writing website has a splendid reputation for writing a readmission letter to a university. We have helped many students to pass this challenge successfully. Our experts are professional writers with college degrees. Comprehensive experience in writing a college readmission letter is their merit.
They have:
Knowledge of the letter structure.
Understanding ways to present info.
Relevant university degrees.
Vast experience in writing.
If a student doubts that they can craft a competitive readmission appeal letter, they ask for professional help. Our writing team knows well how a professional letter for readmission is important for students. That's why find the best writing experts for their tasks as well as offering top-notch service.
Get the ball rolling! Ask for help right now, take the readmission letter for college written flawlessly.
Get Readmission Letter for College Without a Sign of Plagiarism
A professional writing a readmission letter is the best way to pass the college readmission process successfully. Why? Because writing experts know every college requirement. The whole team strives to ensure the highest quality of the docs.
The experts realize the significance of writing a college readmission letter in a completely unique manner. That's why they follow specific rules:
Writing in their own words.
Choosing relevant vocabulary.
Making the text concise.
Creating catchy content.
They pay special attention to writing readmission letter university doc without plagiarism. In the end, the writing quality committee uses a plagiarism checker to make sure that the document is original. The chance to receive a readmission letter with plagiarism is zero.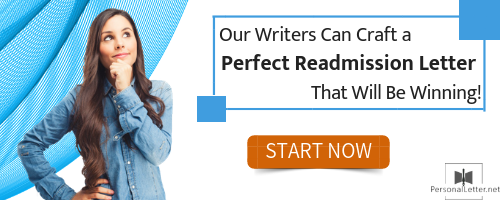 Don't hesitate to ask for professional help on this website for writing this document type. Read the latest testimonials to make sure that it is the best writing service on the web. Or cut the chase, order the letter right now. Enjoy fantastic service!
Order Professional Letter for Readmission, Benefit From High Security
The other priority of this website is customer safety. It is clear that every student worries about payment methods on the internet. Besides, every student wants to get the best writing without nerves. This team understands students who require writing a readmission letter and their security concerns.
We have put much effort to make this service 100% safe:
Automated sign-up.
Encrypted authentification.
HTTPS/TLS security standards.
Secure checkout (Visa & MasterCard).
No-name communication.
Money-back guarantee.
The writing team keeps the information of every customer under strict confidentiality. A student can be sure that their personal data will be kept secret.
Still have hesitation about your doc? Feel free to contact us for any reason! 24/7 support is ready to answer any question.
Readmission Appeal Letter & Many More Perks: All for Your Satisfaction
This readmission letter service is the best on the web not only because of writing brilliant readmission letters. A student has an opportunity to enjoy the best service. Writing a college readmission appeal letter on this website always means a perfect customer experience.
What makes our service special:
Additional quality check on offer.
High priority status as an option.
Direct contact with the writers.
Deadlines from 48 hours.
The process of ordering the doc is easy. The customer's first step is writing an order form. Next, they need to pay for the order. Then the client logs into their account. Cooperation with the writing expert comes afterward.
Choose the best way to get an ideal readmission letter – order it from experts right now!