Readmission Letter Writing Services
Get readmitted with a compelling appeal letter. Prove you're ready to earn the desired degree!
Experts specializing in appeal letters
Customized letter
No matter what reason for readmission is
What guarantees we provide
We offer our users a full benefits package and make good on our promises.


Experts specializing
in appeal letters
Our experts are practiced at writing appeal letters and hold relevant degrees.


Unique & personalized letter
Plagiarism is out of the question for us since customized writing is a must.


Reasons explained,
problems solved
We'll shed light on the reason you left the program and explain why it won't happen again.


Properly structured
& formatted letter
Your readmission letter will meet the requirements both for style & content.


Money-back guarantee
Nobody may access the data you provide to us due to our privacy & security policy.


Confidentiality guarantee
If, for some reason, you find the order unsatisfactory, be sure to get a refund.
Consistently high quality
Our writers provide all components of an excellent personal letter:
Grammar
Structure
Word choice
Formatting
Speech style
Needed points
Text isn't finished until our editors check it to perfection. They have an eye for detail, so mistakes won't go unnoticed. Our experts consistently boost their qualifications – everything to deliver even better service to you!
*Tap on the number to see more info.
SAMPLE LETTER FOR READMISSION
To the Johnson University Discipline Committee
I am writing to appeal for readmission to Johnson University. About two years ago, I came before your committee on a charge of underage drinking and reckless actions. I was foolish in thinking that my actions were completely harmless, and due to my carelessness, a classmate of mine ended up in the hospital. My mistakes have haunted me for the last two years, and I know that the school was justified in expelling me. However, I have taken this time to reflect on my actions and grow as an individual, and I hope that this letter will demonstrate my wish for a return to study.
The reasons for whatever it was that caused your suspension.
When I first enrolled at the university, I was focused more on the social aspect of school I had seen on television. I paid little attention to the privilege I had in getting higher education. When I was expelled from school, I had to find a job and started working on self-improvement. I realized the true reason I aimed to attend the university. I wanted to enhance my prospects and build a career based on the knowledge I would gain from my study.
Assure officials that the problem has been resolved.
I expect to return to Johnson University to start my study anew, this time focusing on academics and opening my mind to new perspectives. The last two years have helped me mature into a person who better understands responsibilities and obligations to the community, and I hope that you will give me another chance to study at the university.
Sincerely,
Dylan Knowles
Explain why you would like to be accepted back into their program.
Writing a Readmission Letter
It is unfortunate but sometimes students are suspended from college or university for failing to meet academic standards or some other reason. Students also voluntarily withdraw from schools for a variety of different reasons. The good news is most schools will readmit students. Policies for being readmitted to college vary from school to school but in most cases, part of an application for readmission will involve writing a letter to the appropriate school authorities – a letter of readmission.
The letter you submit can be critical in convincing a school to accept you back into their program so it is critical that you write the best letter possible. However, many students don't know how to write a readmission letter. These are the students that can benefit from the readmission letter writing service we provide.
How to use our service
Step 1
Share requirements
Complete the order form to tell us what you need.
Step 2
Make a payment
Pay for your order using one of our reliable methods.
Step 3
Log in to your account
Receive sign-in details by email & check the progress in your Customer Area.
Step 4
Download the final doc
Get notification and save the finished text from your account.
Order now
Reviews
We made much effort to draw customers' attention and achieve their loyalty. Want to know what our clients say?
Order now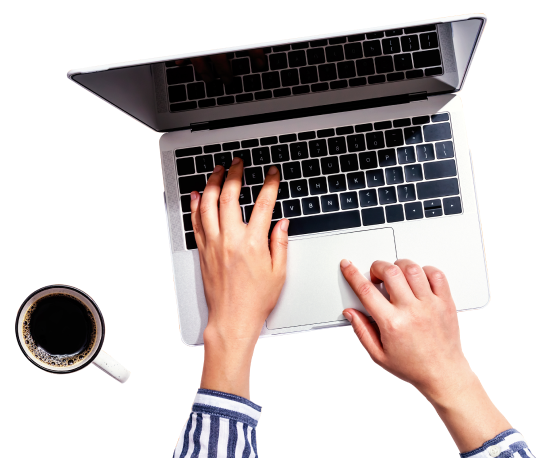 Personal statement


My text is awesome. Thaaaanks;)
Readmission letter


omg, my letter is great! thank you guys
Admission essay


Writer did a great job. Just what I needed.
Readmission letter


Letter was alright. I finally got back to my college!
Letter of intent


My writer included all I wanted in my text. Thanks:)
Personal statement editing


You guys made my text perfect
Waiver request letter


thanks for help, text is fine
C
Customer #948539, India
Readmission letter editing


Letter is nice. I like it!
Admission essay editing


got my essay edited on time:) thanks a million
Statement of purpose


Thanks
C
Customer #959593, Canada
Readmission letter


Got accepted back into school thanks to you;)
Personal letter


Thanks for timely help.
Admission essay


You wrote a really good essay, thanks ;)
Waiver request letter


Thanks for letter. You helped me a lot
C
Customer #538539, Philippines
Readmission letter


Letter is okay, many thanks!!!
Personal statement


don't regret I used your service;)
Readmission letter


Letter is gooood. Gonna recommend this service to my friends
Statement of purpose


Not bad:) Thank you guys
Readmission letter


Thanks for letter;) I like it
Admission essay editing


You made my essay ideal. Thank you a lot!!
Readmission letter


You guys are great!
Personal statement editing


Thanks for editing my text, it's excellent now :)
Readmission letter


Great. Thanks
Personal statement


Thanks for personal statement. Can't believe I got into college :)
Statement of purpose


Didn't even expect such good text. Thaaanks!
Letter of intent


these guys are real experts. my letter is well well written
Readmission letter


Thank you for letter. It's amazing;)
Waiver request letter


You wrote awesome text. I'm happy with that!!
Readmission letter


Thank you for original letter. Goood job!
Personal statement


Personal statement is OK. Thanks;)
Order now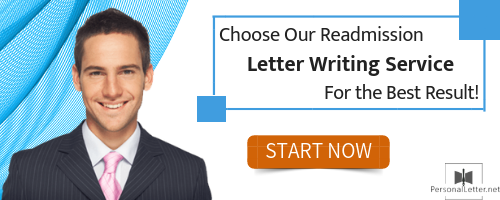 There are two main types of letter of readmission:
The first type is a readmission letter due to voluntary departure. It is written to explain why the student has left the school and to state the desire to return. This type can be broken down further into medical, financial and personal reasons. For the medical reason, it may be due to an accident or long-term illness that would require the student to depart from the school for an indefinite time. This is one of the most common reasons for application for readmission. Another voluntary reason is due to a financial situation wherein the student is not able to support the cost of the tuition fee. An example of personal reasons may be due to taking care of a sick relative.
Meanwhile, the second type of letter of readmission is a letter due to involuntary departure. As it is the school's decision to remove the student, a readmission letter is vital in this case. There is a need for a good explanation as to why the student was dismissed in the past and how it can be prevented if the student is allowed to be readmitted. Knowing the root cause of the problem is very important. For example, a student may have been dismissed due to failing grades but what the teacher may not know is that the student may have been depressed at that time. Identifying these facts will make a strong case in the approval of the application for readmission letter.
How to Create a Letter of Readmission
The letter of readmission that you write is intended to convince school authorities to accept you back into their program.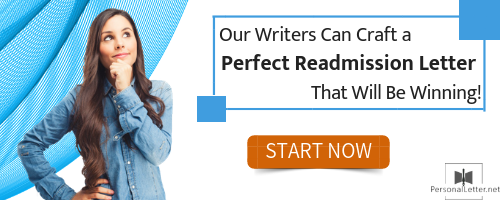 In order to do so there are several things that your letter of application for readmission should contain including:
Why you are writing the letter. There should be a clear purpose on why the readmission letter was written.
An explanation of why you had poor grades or whatever the problem was that caused you to leave school, whether because of suspension or voluntarily. A clear explanation would give a strong case for the approval of your letter of readmission
Evidence that whatever problems that caused you to leave school have been resolved. Giving such evidence would help the school be secured that such occurrence of leaving will not happen again.
Show your desire and enthusiasm to be readmitted to the school's program. Use words that show enthusiasm with statements such as looking forward to returning.
Address the correct person. When writing an application for readmission, ensure that it is addressed to the correct person so that your concern will be directed to the right channel.
Use the proper readmission letter format. Being a letter of readmission, it should follow proper standards. The style, text, and indent should match with existing templates.
Make sure that the letter is free from grammar errors. Ensuring that the application for readmission is free from grammar errors would display how serious you are with your intent to return. Remember that you are trying to make a good impression to the school and a letter with a lot of errors would make the school hesitate to take you in again.
Check existing samples of a readmission letter. Looking at samples of an application for readmission will help you compare what is or is not on your existing draft. It can serve as your basis for how paragraphs should be structured or how to end and close a statement.
Be polite. Always keep in mind that you are appealing for something important to you.
Our readmission letter writing service uses skilled professional writers that are familiar with the readmission process. They know what information to include in readmission letters and the best way to present that information to help your appeal. Getting a college degree is important to your future and not something you want to take a chance on. If you have doubts about your ability to write a convincing and compelling letter that provides you with the best chance of getting back into school, our professionals can do it for you.
Help with Application for Readmission from Experts
We are a professional letter writing service for letters of all types including readmission letters. All of the writers we use have relevant degrees, exceptional writing skills, and comprehensive experience in letter of readmission writing. Aside from having skilled professional writers with readmission letter writing experience work on your letter, their our other advantages to using our service including:
Guarantees on every letter we write that it satisfies all of your requirements and is delivered on time.
The fast and easy online order process
Inexpensive rates a student can afford
Customer support 24/7
In our company, we strive hard to ensure the best service for you. Let us help you move forward with your education and help with application for readmission! We guarantee that our writers have a comprehensive letter writing experience. Our online order process is fast and easy with standby Customer Support 24/7 to attend to your needs. Editing rate starts at a reasonable price making it budget friendly for all students.
Let us help you with these different types of letter of readmission:
Readmission Letter for Voluntary Departure. We will help create a clear letter explaining the reason for voluntary leaving the school such as a medical, financial or personal reason. We will ensure that the elements of a good application for readmission are displayed such as stating the purpose of the letter, addressing it to the correct school official and showing the enthusiasm of returning back to school.
Readmission Letter for Involuntary Departure. This letter of readmission is more complex as it is the school's decision to dismiss a student. Fret not though as we will create an application for readmission that would dig down to the root cause of the problem. We will help you explain in a way that your past situation will be understood by the school with an emphasis on how your future can be changed if given the chance to go back.
Do not gamble on your education. Trust us to help you appeal with a convincing letter of readmission. Avail our service now and give yourself a brighter future!
Your readmission letter is guaranteed to be winning with our expert help! Contact us 24/7!